LEGISLATIVE PRIORITIES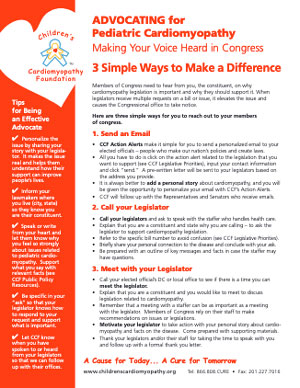 Pamphlet Download
The Children's Cardiomyopathy Foundation (CCF)'s has been active on a variety of federal and state advocacy issues, with the primary focus on federal legislation.
CCF's federal advocacy work is focused on:
Increasing cardiomyopathy research
Promoting public awareness and education
Encouraging early and accurate diagnosis
Improving survival from sudden cardiac arrest
Ensuring access to specialized and quality care
Key Initiatives
CCF has been actively involved in the appropriations process and supporting legislation focused on cardiomyopathy education and prevention of sudden cardiac death associated with undiagnosed cases of cardiomyopathy. To learn more about CCF's legislative and health policy agenda, click here.
CCF Advocates are encouraged to contact their U.S. representative and senators and share their personal story of how cardiomyopathy has impacted their life and request their support of these bills.
Appropriations Requests
The Foundation actively encourages Members of Congress to support the needs of those with cardiomyopathy through the inclusion of cardiomyopathy specific language in appropriations bills. Each year, the Senate Appropriations Subcommittee on Defense releases its list of approved research areas for funding under the Department of Defense Peer Reviewed Medical Research Program (PRMRP). Cardiomyopathy was first listed as an approved research topic in 2018 and represents a new source of research funding for pediatric cardiomyopathy that needs to be renewed every year.
Additionally, CCF will request the Labor, Health and Human Services Subcommittees to address the unmet education and awareness needs of the cardiomyopathy community. This includes advocating for the CDC to integrate information about the signs, symptoms, and risk factors of pediatric cardiomyopathy into the Centers for Disease Control and Prevention (CDC) existing programs, including the Division of Heart Disease and Stroke Prevention, the Division of Reproductive Health, the National Center for Birth Defects, and Development Disabilities, and its Division of Population Health. Additionally, CCF asks that Congress encourage the National Heart, Lung, and Blood Institute's (NHLBI) to continue funding the North America Pediatric Cardiomyopathy Registry.
Cardiomyopathy HEARTS Act
The Cardiomyopathy Health, Education, Awareness, Risk Assessment, and Training in the Schools (HEARTS) Act was first introduced by Rep. Frank Pallone (NJ-06) in December 2011 with Sens. Robert Menendez (D-NJ) and Frank Lautenberg (D-NJ) introducing the companion piece in February 2012. In March 2020, the Cardiomyopathy HEARTS act was reintroduced by Reps. Andy Kim (NJ-03) and Andy Barr (KY-06) as the first bipartisan legislation on cardiomyopathy (H.R. 6166). The legislation focuses on the research and education components that are necessary to improve survival for children with cardiomyopathy. First, the bill proposes that the Centers for Disease Control and Prevention (CDC) develop educational materials and resources on cardiomyopathy and disseminate them to school administrators, educators, school nurses, coaches, and families. Second, the bill requests the CDC to collect data and conduct surveillance research to understand the prevalence and epidemiology of cardiomyopathy. Third, the bill requests that the National Institutes of Health (NIH) organize an interdisciplinary working group to develop research strategies to address the gaps in knowledge in pediatric cardiomyopathy.
SAFE PLAY Act
The Supporting Athletes, Families, and Educators to Protect the Lives of Athletic Youth (SAFE PLAY) Act was introduced by Reps. Lois Capps (CA-24), Bill Pascrell (NJ-09), and Sen. Robert Menendez (D-NJ) on July 2014 to promote safety guidelines for youth athletes. It was reintroduced in February 2020 by Sen. Menendez and Rep. Pascrell. The SAFE PLAY Act is comprehensive legislation that focuses on various sports safety issues, such as heat exposure, CPR and AED training, concussion response, and energy drink consumption. It also encourages best practices on preventing, documenting, and addressing cardiac emergencies, and includes provisions for educating parents, schools, and health professionals about higher-risk heart conditions such as cardiomyopathy. The bill helps to identify student athletes who may be at higher risk by requiring the Centers for Disease Control and Prevention (CDC) to develop and disseminate educational resources that would encourage families to evaluate their cardiac health history, check for cardiomyopathy symptoms, and seek medical screening if necessary. The bill would provide grants to states for cardiopulmonary resuscitation (CPR) training and automatic external defibrillators (AEDs) in public schools, as well as set guidelines for emergency preparedness in case of an adverse cardiac event. In addition, the CDC would provide national data on how many student athletes are impacted by cardiomyopathy and other cardiac conditions, as well as concussions and heat-related illnesses.