TAKE ACTION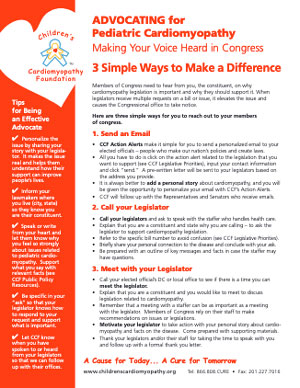 Advocating for PCM
An advocate's role is to let policymakers know what they, as citizens and constituents, think is important. This can be communicated in a variety of ways. Starting a dialogue with your elected officials is easy through three advocacy measures.
Ways to Advocate
Send an email
Write a letter
Call your legislator
Visit our Advocacy Training and Tools page to learn about how you can effectively reach out to your members of Congress. Find out which issues are of importance to the cardiomyopathy community from our Legislative Priorities page.
Take Action
CCF's legislative efforts have been focused on increasing surveillance research on pediatric cardiomyopathy and expanding education and awareness of the risk and symptoms of cardiomyopathy. CCF has worked closely with several congressional offices to introduce cardiomyopathy related legislation.
Take action on the below priority legislation by sending a personalized email to your elected officials:
Congressional members want to hear what their constituents are concerned about and to understand the reasons for supporting bills on cardiomyopathy and sudden cardiac death.
Stay in Touch
If you have contacted a member of Congress on a cardiomyopathy related issue, please tell us about it. Fill out an Advocacy Contact Form and we can assist with follow up.