Heart to Heart Newsletter
Third International Scientific Conference
on Cardiomyopathy in Children
June 2014 Issue — The Third International Scientific Conference on Cardiomyopathy in Children took place on May 15-16 in Bethesda, Md., bringing more than 60 leading researchers and clinicians to exchange ideas and discuss research direction on cardiomyopathies in children. Hosted and funded by the Children's Cardiomyopathy Foundation (CCF) and co-chaired by Steven Lipshultz, M.D. of Wayne State University School of Medicine and James Wilkinson, MD, MPH of Children's Hospital of Michigan, the conference covered a wide range of topics on cardiomyopathy, heart failure and heart transplantation in children.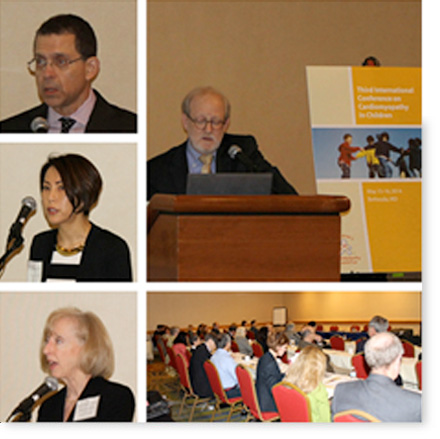 Photos, counter-clockwise: Steven E Lipshultz, MD, pediatrician-in-chief at Children's Hospital of Michigan; Lisa Yue, CCF's founding executive director; Gail D. Pearson, MD, director of the adult and pediatric cardiac research program in the NHLBI's Division of Cardiovascular Sciences; and Jeffrey Towbin, MD, executive co-director, Heart Institute at Cincinatti's Children's.
"The medical issues and the research discussed here were extremely valuable, but the bottom line for all of us is finding ways to answer: How do we get to the best quality of life for children with cardiomyopathy and for their families," said conference Co-Chair Dr. Steven Lipshultz. "By funding this conference and supporting the Pediatric Cardiomyopathy Registry studies, CCF is playing a huge role in helping us find that answer."
With the goal of creating a new pediatric cardiomyopathy research agenda, speakers and panelists from across the U.S., Canada, Europe and Australia shared study findings, identified research gaps and evaluated new approaches and technologies for improving patient outcomes. Gail Pearson, M.D., Jonathan Kaltman, M.D. and Timothy Baldwin, Ph.D. from the National Heart, Lung, and Blood Institute also participated in the discussions. Topics covered at the conference included: Genetic and Molecular Mechanisms, Heart Transplantation and Pre-Transplant Device Support, Advances in Pediatric Heart Failure Research and Treatment, Advances in Cardiac Imaging, Advances in Personalized Medicine in Pediatric Cardiomyopathy and Heart Transplant, and Interventional Studies.
Conference sponsors included: Global Productivity Solutions, Macquarie Group Foundation, National Heart, Lung and Blood Institute, MyoKardia, Berlin Heart and the Children's Hospital of Pittsburgh.
"What an honor it was to attend and to witness first hand CCF's heartfelt commitment to making a difference for patients and their families," said CEO and Co-Founder of Global Productivity Solutions, Aimée Cowher. Ms. Cowher lost her son, Kyle, to cardiomyopathy in 2009 and since then has been a loyal supporter of CCF's research initiatives. "Lisa Yue has created a vehicle that enables others to jump on board without having to pave their own way," continued Cowher.
Session leaders will now finalize the research agenda and form working groups to address the research priorities derived from the meeting. Conference proceedings will be published in three dedicated issues of Progress in Pediatric Cardiology.