Dear Friends,
Cardiomyopathy can send families into a financial tailspin after their child's diagnosis. Out-of-pocket treatment expenses for cardiomyopathy can be as much as $62,000 per year. Medical costs for a child who needs a new heart can surpass $1 million.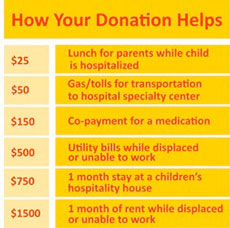 For some families, the bills start mounting and the ability to stay afloat becomes overwhelming, especially when coupled with the emotional stress of caring for their sick child.
The Children's Cardiomyopathy Foundation (CCF) provides the support cardiomyopathy families need at a critical time in their lives.
Through CCF's Financial Assistance Program, the Foundation has helped more than 22 families with medical and non-medical expenses related to their child's care.
Please donate today. Even a small donation of $25 can treat parents to a meal at the cafeteria, which is often their only respite after a long day at the hospital.
With your contribution, we can continue assisting families facing financial hardship and support the emotional well-being of the entire family.