Heart to Heart Newsletter
CCF Holds Twelfth Annual Golf Classic to Raise Awareness and Funds for Pediatric Cardiomyopathy Research and Education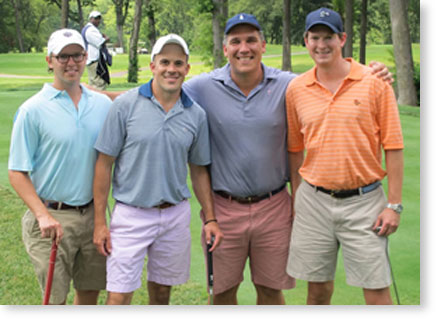 (L-R) Ryan Fleming, Dylan Ross, Steve Bleier, and Carney Hawks
September 2014 —
The 12th Annual CCF Golf Classic, held on July 21, was a sold-out success with 240 attendees and 61 sponsors. Held at the historic and distinguished Montclair Golf Club in New Jersey, the event raised more than $364,000 for pediatric cardiomyopathy research and education.
The day was blessed with perfect golfing weather – sunshine and clear blue skies. 53 foursomes competed for the lowest par score on Montclair's greens. Betting holes and contest holes spaced throughout the courses added excitement to the game.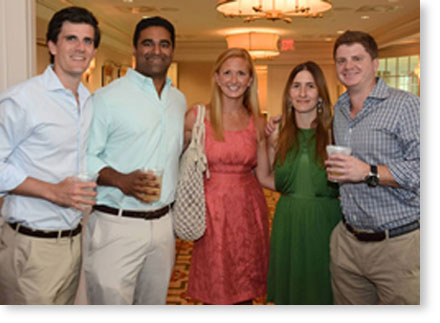 (L-R) Patrick Coleman, Madhu Satyanarayana, Katie Lachman, Diane Wright, and Matt Maggio
In the evening, attendees enjoyed live music performed by Rum Runners Jazz and bid on a variety of silent auction items. During dinner, CCF paid tribute to CCF's Heart Kids and cardiomyopathy families. CCF family member Priscilla McRae was the guest speaker who told her story of perseverance and strength. Nearly seven years ago, her life was turned upside down when her family had to suddenly move from Sydney, Australia to New York City to obtain better medical care for their baby daughter, Zara, who was diagnosed with dilated cardiomyopathy and in severe heart failure.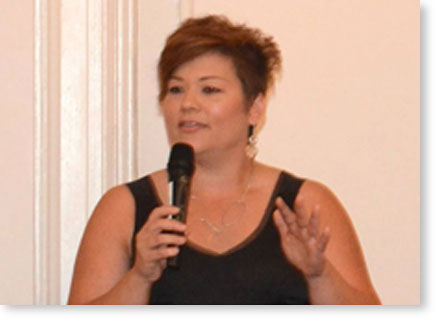 Priscilla McRae
Priscilla's moving recount was followed by the awarding of golf prizes by CCF board members, Eddie Yu and Ian Sandler. The winning foursomes were: Neel Chary, Anne Davey, Jason Feintuch and Brad Jordan (first prize); Won Choi, Scott Mallek, Terry Yun and Jeff Phlegar (second prize); Ian Sandler, Rory Murphy, Richard Wegener and Matthew Hooker (third prize); and Patrick Fitzgerald, Mark Colm Greg Schmitt and Brian Nold (fourth prize). The prize for closest to the pin went to Neel Chary and Kevin Dunphy whereas James Fitzpatrick and Brian Pannuzzo won the prize for longest drive. Richard Wegener took home the mulligans raffle prize.
2014 Event Sponsors
Daniel Allen & Family; Anchorage Capital Group; Angel Island Capital; Angelo Gordon & Company; Todd Arden; Bank of America Merrill Lynch; Steven Bleier; Brigade Capital Management; Sheree Chiou & Jason Kirschner; Column Park Asset Management; Credit Agricole Corporate & Investment Bank; Credit Suisse; DDJ Capital Management; Lucas Detor; Deutsche Bank; District Policy Group; Drinker Biddle & Reath; Fried, Frank, Harris, Shriver & Jacobson; Eric Friel; Robert Gallivan & Family; GLC Advisors & Company; Eric Guevara & Family; Michael Henderlong & Family; HG Vora Capital Management; ICAP High Yield; Jefferies; David & Sarah Johnson; JP Morgan Chase & Company; Katten Muchin Rosenman; George Khouri; Kirkland & Ellis; Clint Kollar; Si Lund & Family; Mackay Shields; Macquarie Capital; Marius Maldutis & Family; Jim Malley & Laura Torrado-Malley; Jim Martin & Heidi Hullinger; Justin McEvily & Family; Chris & Beth McGrath; Michael Miller & Family; Morgan Stanley; Daniel Ornstein & Family; Brian & Robin Potash; RBC Captial Markets; Richards Kibbe & Orbe; Robert W. Baird; Edgar Sabounghi; Ian Sandler & Family; Senator Investment Group; Daniel Shatz; Chaney Sheffield; Southpaw Asset Management; Stifel Nicolaus & Company; Stone Lion Capital Partners; SumRidge Partners; Taconic Capital Advisors; Wachtell, Lipton, Rosen & Katz; Eddie Yu & Family