Scientific Conference Overview
The Children's Cardiomyopathy Foundation (CCF) 5th International Conference on Cardiomyopathy in Children has been modified to a virtual event to be held on March 5-6, 2021. This two-day scientific conference will focus on determining research priorities and developing strategies for improving the diagnosis, treatment, and health outcomes of children with cardiomyopathy. To view the conference steering committee members, click here.
Registration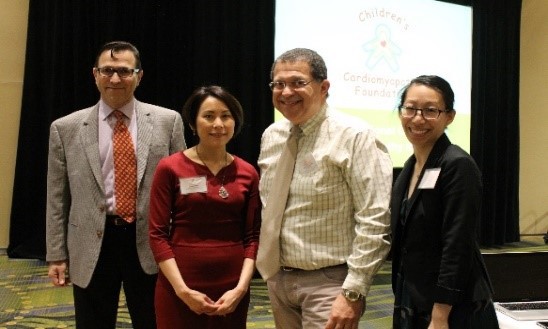 Registration is now open to all medical and healthcare professionals. Registration fees will be considered a tax-deductible donation to the Children's Cardiomyopathy Foundation.
Recordings of the two-day conference and an attendee list will be made available after the conference to those who registered.
To register,
click here
.
Registration deadline is March 1, 2021
Physicians: $70
Non-physicians: $35
Fellows and residents: $35
Medical students: no fee
Conference Format
The scientific conference will feature six sessions involving leading experts on pediatric cardiomyopathy, heart failure, and heart transplantation. Sessions will be both on-demand and live with short presentations, case studies, and panel discussions. A meeting agenda will be posted at a later date.

March 5: 12:00 pm to 4:00 pm EST
Dilated Cardiomyopathy
Steve Lipshultz, M.D., Daphne Hsu, MD and Paul Kantor M.B.B.Ch., M.Sc.
Noncompaction Cardiomyopathy
Melanie Everitt, M.D., Brian Feingold, M.D., John Lynn Jefferies, M.D., Ph.D.
Arrhythmogenic Cardiomyopathy
Jeff Towbin, M.D. and Teresa Lee, M.D.
March 6: 9:00 am to 1:30 pm EST
Hypertrophic Cardiomyopathy
Charlie Canter, M.D., Steve Colan, M.D., Robert Weintraub, M.B.B.S.
Restrictive Cardiomyopathy
Joseph Rossano, M.D. and Michael Burch, M.B.ChB., M.D.
Genetics of Cardiomyopathy
Wendy Chung, M.D., Ph.D., Shelley Miyamoto, M.D., Stephanie Ware, M.D., Ph.D.